Jobba med Ridesum – ridsportens ultimata träningsapp!
Vår app är ett smart verktyg som hjälper dig att utvecklas och nå nästa nivå som ryttare och tränare. Som ryttare kan du planera och logga din hästhållning och träning i appen och få värdefulla insikter som hjälper dig att nå dina mål. Sök bland tränare och experter från över 40 länder i vår tränarbank och boka alla typer av träningar. Välj mellan att träna digitalt via din telefon, få röstfeedback på inspelad video eller träna traditionellt på plats.
Vi erbjuder våra användare inspirerande träningsvideor, tips & trix för en smartare hästhållning!
Med Ridesum får du som tränare och hästföretagare tillgång till funktioner som hjälper dig att arbeta smartare. Via vårt boknings- och faktureringssystem får du mer tid till det du älskar. Arbeta smartare, spara tid och skala upp din verksamhet.
Ridesum kopplar ihop kunskap och passion världen över!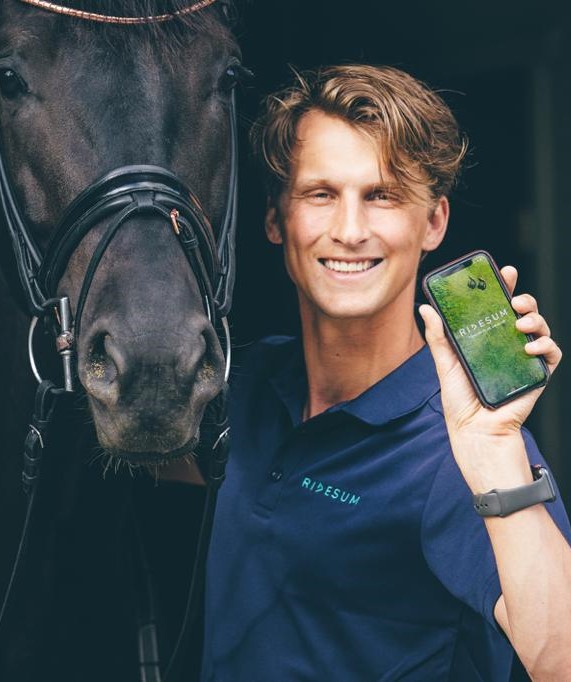 Content Producer/Manager
Full-time, temporary
Do you dream of combining your enthusiasm for equestrian sports with communication?
Welcome to the world's best workplace! We are a horsetech start-up with users in 100 countries. We have been around for 5 years, and a lot of exciting things are happening right now as we gear up!
As a Content Producer, you will be a very important part of our team. To succeed in the role, you must love digital marketing, be a creative communicator, have analytical skills, and be comfortable distributing content on many different platforms.
We are looking for a true equestrian sports geek! We believe you are a positive person who sees opportunities, instead of problems, and makes things happen. You like change and are good at focusing and getting things done. One of your most important tasks will be to activate and engage our amazing community of trainers and riders.
Responsibilities:
Content and channels, from strategy to implementation. This includes channel and content strategy and annual planning.
The creative process from idea to execution.
Completion, delivery, and publication of content to various channels. Images, video, text.
Collect, monitor, and analyse metrics on how the content is disseminated and used, work with data-driven development.
Drive our presence on the web and on social mediawith the goal of engaging and effectively driving conversion.
Marketing automation and e-mail campaigns.
All influencer collaborations.
Close collaboration with the Head of Growth Marketing.
Experience:
At least 3 years' experience of social media, preferably with experience from app companies and equestrian sports.
Must have equestrian experience from competitions, as groom or worked professional with equestrian brands.
You work with message formulation and target group adaptation as an obvious element of growth creation.
At least 3 years' experience in content production.
Basic knowledge in SEO and SEM tactics.
Web publishing (we use WordPress).
Are highly comfortable planning and executing digital marketing campaigns and partner collaborations.
Google Analytics is a plus.
Video editing in Adobe Premiere Pro is a plus.
Native English – Excellent visual, written, and verbal communication skills in English.
One of the Nordic languages/Dutch is a plus.
We are looking for someone who:
Loves to write and is clever with words.
Enjoys working with image, colour, and shape.
Is organised, used to working towards goals and proactive.
Loves a mixture of tasks, including anything from taking photos out on the riding trail to planning campaigns and monitoring data.
Loves equestrian sports and has a good knowledge of the sport.
About the role: Full-time, temporary for 1 year, 100% remote.
About Ridesum
The team consists of ten people who are passionate about improving equestrian sport globally! We work remotely.
The Ridesum app is the ultimate equestrian training app – a smart tool that will help equestrians to develop and reach the next level. It's one of the largest equestrian training apps globally, with 30.000+ riders and trainers from 100 countries and growing fast. The app contains the world's largest trainer pool, with 2000 trainers and experts worldwide, you can book and train for face-to-face or online.
Ridesum was launched in 2019 with online training as a main product, but since then, the concept has been developed. Today it is possible to plan and log your horse's health, behaviour, and training to get valuable insights. The app also offers inspiring training videos and tips & tricks for more sustainable horse keeping. For trainers and horse business owners, Ridesum provides access to features that will help you work smarter.
Our mission is to accelerate equestrians learning & progress in a smart, smooth & sustainable way. We are Curious, Brave Doers who Simplify. But best of all, we have fun and are ourselves. Together we develop the equestrian sports!
Interested?
Please apply: https://emp.jobylon.com/jobs/189810/
Contact Karin Lindell, Co-Founder & Chief Marketing Officer, karin.lindell@ridesum.se, +46 (0)76 77 77 290.
We conduct interviews on an ongoing basis.
Praktikant Marketing
Gillar du ridsport & kommunikation? Välkommen till världens roligaste arbetsplats!
Vi söker nu en praktikant som får stora möjligheter att prova och genomföra många delar inom marknadsföring, med fokus på contentproduktion och kanaler. Vi är en startup inom horsetech som utvecklar träningsmöjligheterna inom ridsporten genom vår plattform. Vi grundades för fem år sedan och har enormt mycket spännande på gång. Idag har vi användare i 100 länder.
Ridesums grundare Jenny & Karin har båda kommunikationsbakgrund. Det gör att vi också kan bjussa på kunskap och tillsammans med dig skapa enkel, tydlig och inspirerande kommunikation.
Som praktikant hos oss kommer du bland annat att arbeta med sociala medier, influencers, webb och nyhetsbrev. Du producerar texter, bilder och rörligt. Du kommer också jobba med annonsering, event, redigera och klippa film, träffa ryttare/tränare och göra casefilmer osv. Detta lägger vi upp tillsammans utifrån vad du vill prova och bli bättre på!
Om praktiktjänsten
Vi är ett litet team och söker någon med ett stort intresse för ridsport och kommunikation, med möjlighet att praktisera minst 8 veckor med start omgående.
Stora möjligheter och mycket ansvar utlovas. Erfarenhet från skrivande och bildredigeringsprogram är ett måste. Gärna erfarenhet av filmredigering i Adobe Premiere Pro. Du har en "can do-attityd", älskar att skapa värdefullt content, är nyfiken och lärande.
Praktiken är ej betald.
Intressant?
Kontakta Karin Lindell, Co-Founder & CMO, karin.lindell@ridesum.se, 076-77 77 290.